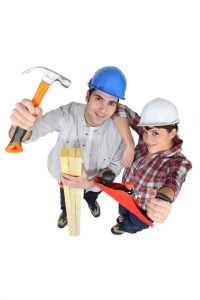 If you're thinking of buying a fixer-upper for the first time, whether to live in yourself or to flip, doing some of the renovations yourself can be satisfying and economical. You've watched plenty of television shows where novices remodeled a house in two or three days, so how hard could it be? But, before you start tearing out walls and ripping up flooring, there are a few important renovation blunders to avoid.

Know your limitations

Despite what you've seen on TV, until you have some experience under your tool belt, you won't know your own strength, endurance and patience for the time, difficulties and potential setbacks you'll encounter. Often what seem like minor projects can turn into major issues if you run into mold, mildew, old wiring and other costly issues.

The best strategy is to start with one small project to see if you
Enjoy doing it.
Can complete it in a timely fashion.
Don't run into difficulties or problems you cant solve.

Know who to call

Before tackling a project, take time to contact an experienced friend, family member or helpful neighbor to get their advice. If you don't have a knowledgeable acquaintance, visit your local DIY or neighborhood hardware store and speak to their department expert. Many times, they offer weekend classes to teach the basics of home improvement projects.

Know if you need a permit

Most people know that they need a permit for a major construction or home addition, but many municipalities require permits for smaller changes you may not realize or consider. Some cities require permits for projects as simple as replacing the front door or changing the exterior color. Often, homeowners assume that interior upgrades don't require permitting, but if you add a kitchenette to your game room or create a mother-in-law apartment, many times you'll need a permit.

Neglecting getting a permit may derail your home's sale or add costly changes and repairs later on.

Know which tools you need

Home renovations are not the opportunity to try your "MacGyver" skills. Repurposing tools and household objects seems great … until you're in the middle of your project with drying mastic trying to hold tiles in place with your knees and toes. Tools are expensive. If you don't have the right tools, and can't afford to buy them, see if you can rent them from your DIY, rental or farm store. Some local libraries offer tool rental too, so check out all the options before you need that pipe wrench, specialty saw or clamp.

Purchasing specialty tools for a single renovation project may make it cost prohibitive. In that case … hire an expert.

Know the resale value

According to a remodeling annual cost vs. value report, less expensive upgrades like entry door, garage door and window replacements perform better on resale over more upscale changes to kitchens or bathrooms.

Renovations need to be appropriate for the neighborhood to add true resale value, according to Bob Vila. So, while you may love a gourmet kitchen, and want it in your own home, don't plan to recoup the expense when the time comes to sell.

Source: Alan and Heather Davis